"Im not going to sit around and wait, I'm gonna make my dreams come true!"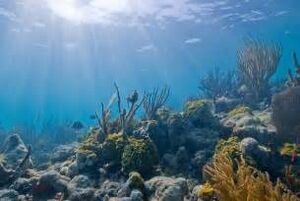 Appearance
---
Flounder has a mix of dark blue, blue, and light blue colors. He has gills like a Seawing, and sharp but not as sharp as an Icewings claws. His horns also curl back a little like a Seawng. He also has has scars on his neck, back, and chest from a shark attack.
---
Personality
---
Flounder is a nice and kind dragon, and he often likes to joke around, but when time comes to be serious he is. He is general and he always tries to prove he can be as great as his sister Iceberg, or even better. If dragons/creatures try to hurt his home, friends, or family he is not afraid to lash out and stop at nothing to protect them.
---
Abilities/Weaknesses
---
Abilites
_________________
Since Flounder is a Seawing and Icewing hybrid, he has diffrent abillities than a normal Seawing or a normal Icewing. He can blow out a plum of frost breath, can breath under water, and can speak aquatic.
Weaknesses
_________________
Never being loved, being forgotten in history.
---
Family
---
Father: Ex-King Arctic
Mother: Barracuda
Brother(s): Archipelago, Chill, Wolf
Sister(s): Iceberg, Atoll, Sandy, Aurora
Half Sister(s): Queen Cockateil
Half Brother(s): N/A
Brother(s) in-law: Deathspirit(married to Iceberg), Egale(married to Cocateil)
Girlfriend: Kite
Wife: N/A
Dragonets: N/A
---
Romantic Relationship
---
Status: Taken
Sexuality: Heterosexual(Straight)
Crush: Kite
Former Crushes: N/A
Girlfriend: Kite
Wife: N/A
Dragons attracted to Flounder: Kite
Dragons formerly attracted to Flounder: N/A
---
Other Relationships
---
Ex-King Arctic:
Tba
---
Barracuda:
Tba
---
Iceberg:
Tba
---
Atoll:
Tba
---
Sandy:
Tba
---
Aurora:
Tba
---
Archipelago:
Tba
---
Chill:
Tba
---
Wolf:
Tba
---
Kite:
Tba
---
Deathspirit:
Tba
---
Breeze:
Tba
---
Lotus:
Tba
---
Cliff:
Tba
---
Azaleas:
Tba
---
Backstory
---
Flounder was born to Barracuda the Seawing and Arctic the Icewing. He was born with 7 siblings in the same hatching, plus he also has a half sister.(What a handful, am I right?)
Once Flounder got older his dream was to become a general, but so was his sister's, Iceberg. Flounder's whole life was spent in Iceberg's shadow, as he tried to prove that he was as great as her. Once he got older he became a general with his sister(Iceberg) and his brother(Chill), he thought it would just be more time under Iceberg. But one day Flounder slowly stepped out of Iceberg's shadow a little, each day he walked away and stood put no matter how much his sister's shadow tried to pull him back he still proves himself and walks away. And most of all never gives up his dreams!